The Maidu Neighborhood Association meets at 7 p.m., usually on the 4th Tuesday of each month (no meeting in December
or if the Board approves a change). 
We will not be meeting online this month.
FREE Pancake Breakfast
 Saturday, June 19, 2021
 @ 
9 am 
Maidu Neighborhood Association is a hosting a free pancake breakfast at Maidu Park on Saturday, June 19th @ 9 am.  We will gather at the Pavilion, which is between the batting cages and the basketball court.  The purpose of the breakfast is to socialize and interact with neighbors in celebration of the opening of California after the covid restrictions.   
Roseville Police Lieutenant Jeff Kool and Police Captain Doug Blake will be at the grill cooking and flipping the pancakes.  The menu will include Lt. Kool's special banana and blueberry pancakes, which we understand are famous!  We will also be serving sausage, fruit, Starbucks coffee, juice, and water.   Special guest will be newly appointed Roseville Police Chief Troy Bergstrom.  They will answer all your public safety concerns. 
The Sons of the Golden State, a local band with a country/bluegrass/folk sound, will perform live for our enjoyment.   
We will have some fun activities for children, and we will have a pancake-eating contest for all ages. Come out and enjoy the competition; you might win a prize!   
As a bonus, we plan to honor fathers since Father's Day is the very next day. With this in mind, we are sponsoring a writing contest. We challenge you to write a paragraph (no more than 100 words) about your father and why you appreciate him or why you want to honor him. Prizes will be awarded to the best entries. Winners will be announced at the breakfast and must be present to win. Please title your entry, "My Father" and be sure to supply your name at the bottom of your paragraph. 
Email your entry to [email protected] by June 12. If you have any questions, you can send those to the same email address. 
Our goal is to eat, have fun, mingle, talk to our police officers, and see neighbors that we have not talked to in a while.  
To plan for this event and to have enough food, we ask that you RSVP by June 12. Email at [email protected] 
Note:  The City has assured us the bathrooms will be open, clean, and stocked with soap and paper towels.  
We look forward to California re-opening, but know you will make your own health decisions, as needed. We ask all neighbors to continue to respect each other's decisions regarding public events and the social health rules they wish to follow. 
2021 Movie in the Park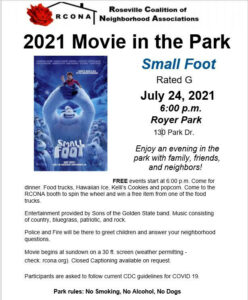 Small Foot 
Rated PG
July 24, 2021  6:00 p.m.
Royer Park, 190 Park Dr.
Enjoy an evening in the  park with family, friends,  and neighbors!
Free, events start at 6:00 p.m. Come for dinner. Authentic Street Taco truck, Snowie King Hawaiian Ice, Kelli's Cookies and popcorn. Come to the RCONA booth to spin the wheel and win a free item from one of the food trucks.
Entertainment provided by Sons of the Golden State band. Music consisting of country, bluegrass, patriotic, and rock.
Police and Fire will be there to greet children and answer your neighborhood questions.
Movie begins at sundown on a 30 ft. screen (weather permitting –
check: rcona.org). Closed Captioning available on request.
Participants are asked to follow current CDC guidelines for COVID 19.
Park rules: No Smoking, No Alcohol, No Dogs