The September 22nd Maidu NA meeting will be held via Zoom.
The September meeting will include board elections.
The zoom link will be posted in the September newsletter and on this site.
The Maidu Neighborhood Association meets at 7 p.m., usually on the 4th Tuesday of each month (no meeting December or if the Board approves a change).
RCONA Candidates Forum YouTube
Did you miss the City Council Candidates Forum?
The candidate forum was well attended by the public and we had an excellent selection of questions sent in before and during the forum.  All candidates were in attendance and except for a couple internet connectivity issues on the part of several candidates, I believe it went very well.
I have uploaded the recording of the forum to our RCONA youtube channel and it can be viewed using this link:  
https://youtu.be/lXqwHNjJVFs
.
  Unfortunately, this video did not capture the screen as set on my computer, which had been resized to show the spotlighted speaker and a small view of the timer, to instead use the default view of a large timer and small speaker view.
Thanks again to everyone who attended and promoted this event and feel free to post the video for others to watch and listen to the candidates discuss the issues most important to Roseville.
Kevin M Lachance
RCONA President
The 21st Annual Maidu Neighborhood Garage Sale a Success
Lots of people came to this year's Annual Neighborhood Garage Sale.  Was it a case of being cooped-up all week because of smoke in the air after nearly 5 months of COVID restrictions?  Was it a case of people who, having reorganized and cleaned their homes, were looking for something different to add?  Was it simply "shopping therapy"?  Whatever the reasons, the neighborhood was highly trafficked between 6:30 a.m. (before our "official" 8 a.m. start time) and about 11:30 a.m.
We want to thank everyone who helped make it a success!  We appreciate all the neighbors who donated so they could be listed on our map (below).  We thank all our volunteers that stood on street corners handing out maps.  We thank neighbors Dave and Pilar Winters who acted as our Garage Sale organizers.  We also thank Melinda Shrader who supplied and distributed the garage sale packets to the participating neighbors, and who had the maps printed for us to hand out.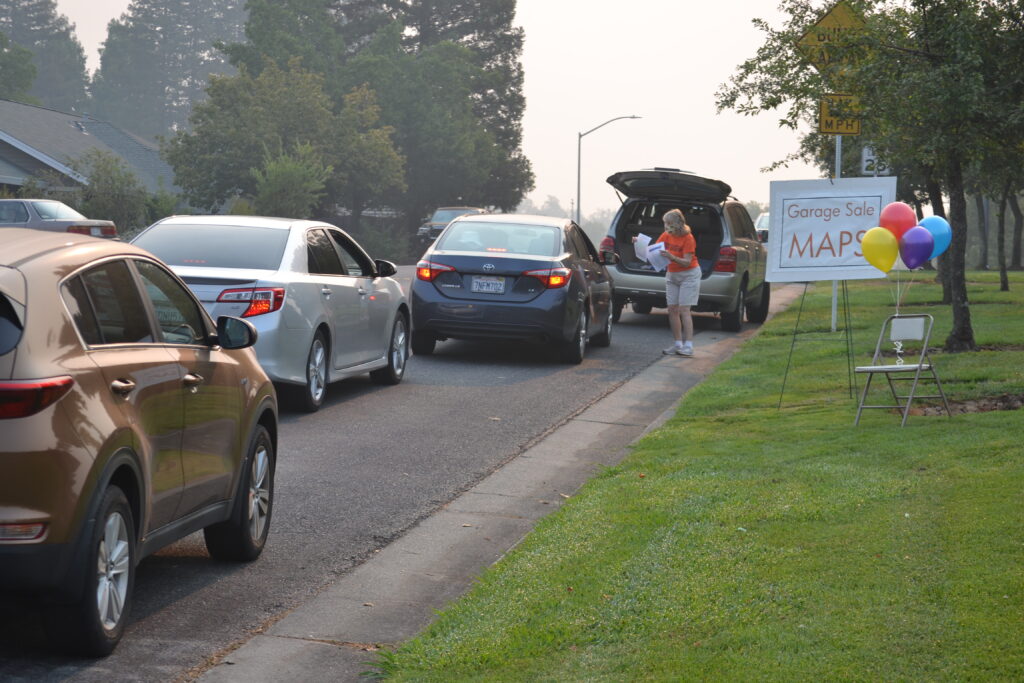 One of our volunteers, above, had a busy time handing out maps at the corner of Johnson Ranch and Rocky Ridge.
Here's one of the busy sales a neighbor was having.  We hope everyone had a successful sale!